Looking for an unusual, eye-catching and statement flower, Brassica might be what you are looking. Brassica, Kale or even Cabbage, is part of the Brassicaceae family and used in floral design. The march of the Brassica has started in Japan. Many years of breeding have resulted in an exciting and top selection of Brassica varieties. Also important to know: the new generation does not have the typical kale smell anymore!
Symbolism
Brassica is similar to Matthiola, they're both flowering cabbage species with beautiful flowers. Cabbage is associated with birth.
Colors, Shapes, And Availability
The range is quite broad and various. The primary colors are white/cream and red/purple, but thanks to dying, the sky's the limit! Think about pink, gold, black, silver and apricot. They are available from July through to February with only the white crane variety being available year-round. The decorative leaves are large and striking with round or pointed shapes.
Design Combinations with Brassica
Use Brassica in any flower arrangement and you know for sure it will grab your guests attention! The flower is favourite for Christmas designs, and in its way, it adds a touch of class. Combine Brassica with beautiful red Roses, Hypericum, Chrysanthemum and greens like Nobilis or Hedera. Or choose a colorful mix with Brassica, Calla, Rosa, Lisianthus, Eryngium, Veronica, Clematis and some Salal. For a field look, you can combine Brassica Crane Queen, Delphinium, Tanacetum, Leucadendron, Aster and Pittosporum.
If you dry the Brassica you can even spray them in the colour of your choice and use them in a dry bouquet. The flowers are less fragile and easy in maintenance, so the perfect 'flower' with the good qualities of a Kale.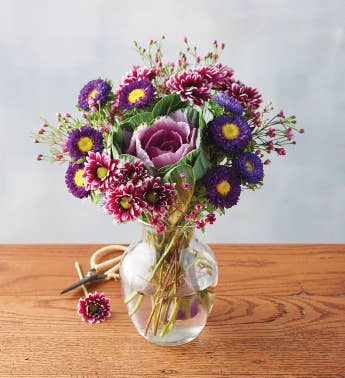 Care Tips
General care tips are applicable. Cut the stems with a sharp knife, use lukewarm water and add flower food. Leave overnight before using the flowers. Brassica flowers are not only decorating the bouquet, you can enjoy it for a long time. Thanks to breeding the vase life increased a lot!
Top Varieties
Brassica White Crane
Brassica Crane Queen
Brassica Red Crane
Brassica Black Leaf
Find more varieties of Brassica available on the website here. Along with inspiration of designs on our Pinterest board.