Following on from our Demonstration video on Friday with Debbie, we touched on the topic of 'The Meanings of Flowers' in Wedding Bouquets.
With so much choice, inspiration and trends, it can be overwhelming choosing you wedding flowers. So, if you are having trouble deciding, then you might want to think about the symbolism and meaning behind each flower.
To help you on your way, we have picked out some of the most popular wedding flowers and explained the meaning behind each flower…
Anemone
Anemones, otherwise known as Wind Flowers, are a genus of the buttercup family. This unique flower is available in a range of shades, including vibrant purple, pink, red and ivory. It is typically available commercially from October through to April.
The Anemone flower represents anticipation so it's a perfect flower for your bridal bouquet and represents the excitement and anticipation you will have before you walk down the aisle.
Calla Lily
Calla lilies are an ever popular choice with brides due to their beauty and how sturdy they are within a bouquet. If you choose white Calla Lilies for your bridal bouquet then this will symbolise purity and innocence.
Daisy
Daisies, typically known as Tanacetum or Leucanthemum in the flower market, often remind people of their younger days, making daisy chains and playing outside. The Daisy symbolises innocence and purity so it is the perfect flower to represent the beginning of your new lives together.
Freesia
Freesias are a very popular choice for brides due to their burst of colour and sweet smelling scent. Freesia is available year round and is available in yellow, pink, ivory, purple and much more. Much like the Daisy, Freesias represent innocence, they also represent thoughtfulness so can make a beautiful addition to your bouquet.
Gerbera
The Gerbera, or mini Gerbera (Germini) are part of the Daisy family and is a bold flower that can really brighten up your bridal bouquet. Gerberas represent cheerfulness which is easy to see when you see all the vibrant shades they grow in!
Hydrangea
The Hydrangea is another popular wedding bloom, the delicate fleurettes all clustered together are perfect for adding bulk to your bouquet. The Hydrangea represents heartfelt emotions and can be used to express gratitude, so it could be a perfect flower for your bridesmaid bouquets.
Peony
Peonies are most definitely a favourite when it comes to wedding flowers and trends, they work well on their own and with other flowers. The shape, size and scent of the bloom is loved by many. The peony represents happy life, happy marriage, good health and prosperity, all perfect ways to start a marriage!
Rose
We couldn't talk wedding flowers without talking about roses! Being the most popular flower in the world and acclaimed flower. The rose is available in a huge range of colours and sizes year round. It's no wonder roses are so popular as they symbolise love. However there are other meanings depending on the colour:
Red roses represents longing, desire and love
White roses shows purity, chastity and innocence.
Yellow roses symbolises friendship and caring.
Pink roses represent emotions, joy and gratitude.
Orange roses symbolises passion and energy.
Sunflower
The sunflower is a happy and vibrant flower and is usually used as the focal bloom in a bouquet. The sunflower is said to represent pure thoughts, adoration and dedicated love so it is a romantic choice for your bridal bouquet.
Herbs
Not only do fresh or dried herbs look and smell amazing, but they also can symbolize just the sentiment you need for your upcoming marriage. During the Victorian era, the herbs a bride carried held serious meaning: lavender stood for luck and devotion, rosemary for remembrance, sage for a long life and thyme for courage.
Top Tip: Using fragrant flowers and herbs in your wedding bouquet and arrangements will evoke memories later in life – to remind you of your wedding day!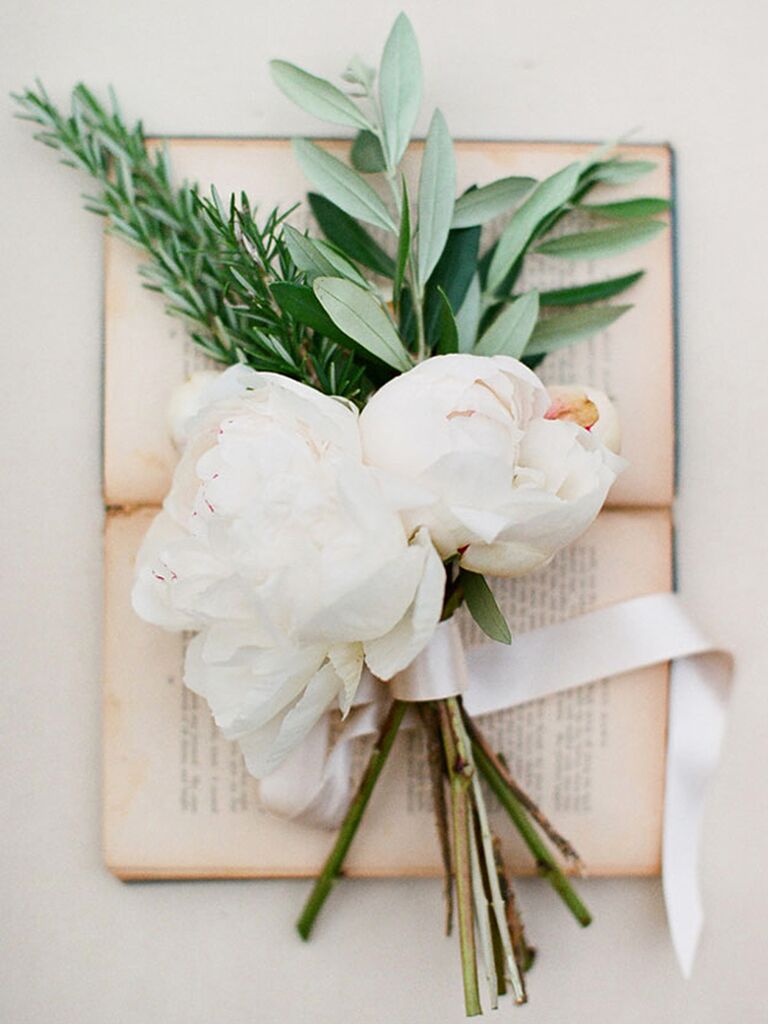 Lily of the Valley
Lily of the valley (Convallaria majalis) is a fragrant flowering plant used in religious ceremonies, world celebrations, perfumes and in gardens. Also known as the May lily, it means "return to happiness" and most often symbolises chastity, purity, happiness, luck and humility.
Ivy
A greenery that has a hidden meaning is Ivy. Ivy symbolises marriage, fidelity, friendship and affection. It signifies bonds of friendship and the circle of life.
For more information on the flowers mentioned in this blog today, visit our Flower Guides on our website – full of information on the types of varieties available, availability and cost.
For more inspiration and ideas for an upcoming event or wedding, visit our blog, Facebook, pinterest and Instagram pages @trianglenursery.
If you missed out video on Friday, head over to our Youtube Channel to watch Debbie create a Bridal Hand Tie Bouquet filled with Lilac Flowers, Greenery and Herbs. The bouquet holds meaning using fresh and dried herbs (lavender stood for luck and devotion, rosemary for remembrance, sage for a long life) and roses.